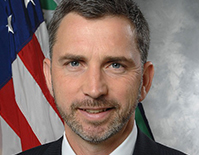 Mr. Tangherlini serves as the Chief Financial Officer of the Emerson Collective, a private philanthropic firm dedicated to removing barriers to opportunity so that people can live to their fullest potential. He also serves as an advisor to a number of technology firms, as well as providing consulting and facilitation support to businesses and nonprofits. His interest is in bringing increased efficiency to business, philanthropy and government through the thoughtful application of technology and process reform. Until September 2017 he was the President and Founder of SeamlessDocs Federal, an emerging technology company with a focus on making government forms and data collection processes simpler.
Before SeamlessDocs, Dan served as the Chief Operating Officer of Artemis Real Estate Partners, a real estate private equity firm with commercial real estate investments across the United States. He joined the firm in 2015.
Prior to joining Artemis, Mr. Tangherlini served as Administrator of the General Services Administration, having been nominated to serve in the position by President Obama and confirmed by the U.S. Senate.
Mr. Tangherlini served as the Chief Financial Officer at the U.S. Department of the Treasury from 2009 to 2013 where he was the principal policy advisor on the development and execution of the Treasury's budget and performance plans. During that time, he concurrently served as the assistant secretary for management.
Prior to his role at Treasury, he managed budget development and performance management of District agencies when he served as the District of Columbia City Administrator and Deputy Mayor from 2006 to 2009. While city administrator, he also served in the capacity of the Vice Chair of the Board of Directors for the D.C. Water and Sewer Authority. In 2006, he served as the Interim General Manager of the Washington Metropolitan Area Transit Authority. From 2000 to 2006, he served as Director of the District of Columbia Department of Transportation and from 1998 to 2000 as Chief Financial Officer of the Metropolitan Police Department. From 1997 to 1998 he served in the Office of Policy at the U.S. Department of Transportation and from 1991 to 1997 he served in various capacities at the U.S. Office of Management and Budget.
Mr. Tangherlini received a B.A. and an M.P.P. from the University of Chicago, and an M.B.A. from the Wharton School of Business at the University of Pennsylvania. He serves on a number of nonprofit boards and lives with his wife and two daughters on Capitol Hill. He fixes broken things for fun.